TraillWorks has two fantastic workshops coming up for the month of March. Both are one day workshops taught by teaching artists. These are great opportunities to explore a new medium or hone your skills / approach. And, we're partnering with the local Wooden Duck Bed & Breakfast, to offer you a discounted stay should you sign up for either workshop and want to make a weekend artist retreat out of it. If you reserve a room at the inn, you'll have an opportunity to save 10% on your workshop enrollment at TraillWorks!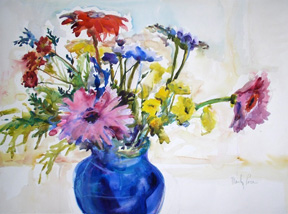 Floral Watercolor by Marilyn Rose
The first workshop on Sunday, March 3rd, is Fabulous Flower Watercolors with Marilyn Rose, of West Caldwell, NJ. She is know for her fast and free approach and can be found in plein air events on the East Coast. I met Marilyn when she participated in our Paint Newton event last summer and have exhibited her works at TraillWorks since. She will definitely help you crawl out of your watercolor shell and find a renewed or new love for the medium.
Woodblock Prints in Progress by Amanda Gordon Miller
The second workshop on Saturday, March 23rd, is Woodblock Printing with Amanda Gordon Miller, of Baltimore Maryland. Amanda and I attended Syracuse University together; she was a very talented painter. We didn't keep in touch, but about two years ago, I found her on Facebook and she has been exhibiting at the gallery since. Her work moved in the direction of printmaking when she had children, as a result of looking for a process she felt she could handle at home. She now is a resident artist in the Howard County Center for the Arts and teaches art and design at two community colleges in Maryland.
Learn more about both workshops and the Wooden Duck Bed & Breakfast offer at traillworks.com.